Published: Saturday, 22 December 2018
Written by Kalle Hultman
At the Smart City conference, all LoRa-related companies linked together to show what opportunities exist in technology that promotes collaboration. The experiment was an unexpected success!
Smart Cities is a conference on the possibilities with more forward thinking infrastructure and community planning. Ambiductor was there to showcase all our products with LoRa. But we also used the conference as a platform to test how well collaboration works in practice. And it was a huge joy to be appointed by organizations such as Urban ICT Arena and Stadshubbsalliansen etc. to show these uses in their booths.
Exhibition
The exhibition, or the conference it really was, proved to be very popular. And after the first day followed a mingle where we met people from every possible industry who had all sorts of ideas about what a smart city really is. We contributed our views and met very well. It was a pleasure to learn so much while we showed how far we got.
Cooperation
We got the chance to connect our products via DNX (Digital Nordix) existing LoRa networks in Kista. DNX also assisted with network server and an application server. They managed to decrypt and decode all our meters and sensors in their system.
From their application server, the values ​​were passed on to RI.SE and Sensative where visualization followed. Thanks to the triangulation found in the LoRa technique, it was even possible to see where all sensors were.
A large amount of data was collected, and it is a joy to see how other application servers can also decode our equipment using our documentation. It gives us the total openness we seek, and which is so unique with LoRa. This happens despite complete data integrity and security.
Products
The following products were connected at the fair:
Ambiductor HEAT 1 - Energy meter
CALEC ST II - Energy calculator
Ambiductor FLOW 4 - Water meter
Qalcosonic W1 - Water meter
DM001 - Electricity meter
Senlab A - Level sensor, liquid IP68
Senlab D - Door alarm IP30
Senlab D - Moisture alarm IP68
Senlab M - Water meter pulse module IP30
Senlab M - Electrical meter module IP30
Senlab O - Multisensor for conference room IP30
Senlab P - IR sensor (visitor counter) IP30
Senlab T - External temperature sensor IP68
Senlab T - Indoor temp sensor IP30
Senlab T - Outdoor temp sensor IP68
LAS-C01 - Wast level sensor
In addition, there was also our Picogateway etc.
Some images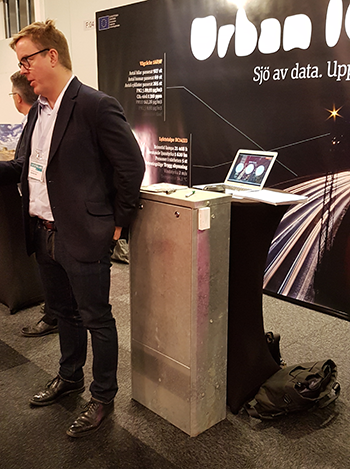 Image left: Electrical cabinet with door alarm, external image
The electrical cabinet is monitored by Ambiductor's door alarm which sends an alarm without delay when the door is opened.
The cabinet has also been equipped with a temperature sensor.
Image right: Electric cabinet with door alarm, internal image
The electric cabinet has been equipped with a door alarm. The alarm has 10-20 years of battery life and can reach up to 15km. Here with internal mounting IP30. Also available for external mounting and IP68 enclosure.
Image: Jan Strand
Our own brilliant salesman who both marketed and learned more about LoRa (one can never know everything).
He also tied new contacts and managed to find new uses for the Internet-of-Things.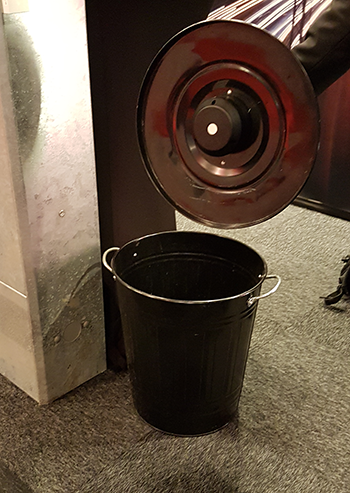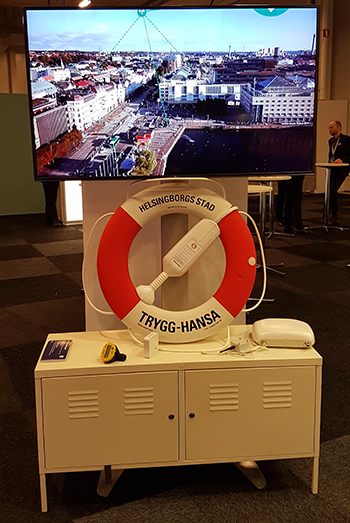 Image left: Garbage bin
A garbage container fitted with Ambiductor's connected level sensor and fire alarm. This solution can save huge amounts of waste if properly executed. This was shown in Urban ICT Arenas stand.
Image right: Lifebuoy
A supervised, connected life buoy can save a lot of rounding and actually save lives. Here shown in the Stadshubbsalliansen stand together with our water meter W1.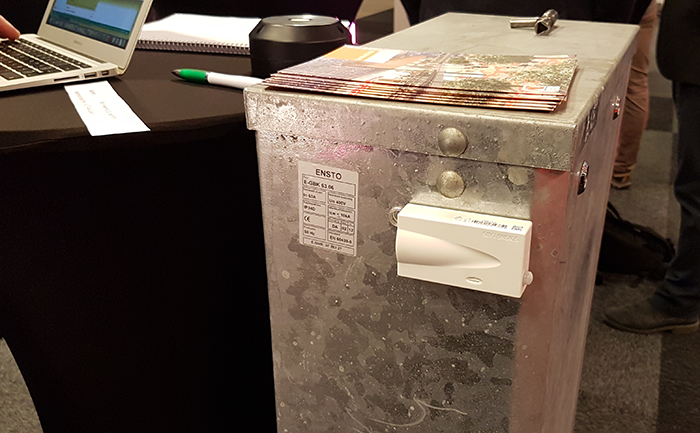 Image: Visitor counter
With Ambiductor's visitor counter mounted in Urban ICTs Arena, we kept track of the fair's visitor numbers. It was very exciting to monitor and it provides great opportunities in the shopping center and to control smart cleaning etc.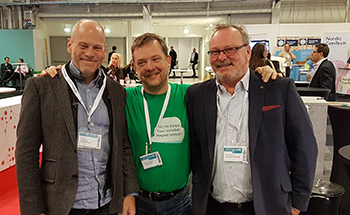 Image left: Öresundskraft - Stadshubbsalliansen
A lovely collection of Helsingborg citizens from both Öresundskraft who represented the Stadshubbsalliansen and representatives from Helsingborg city who lectured and learned more about LoRa.
Image right: A unique meeting between Matsar
Matts Lilja from Blink Services, Mats Pettersson from Sensative and finally another Mats Pettersson from DNX (Digital Nordix). All well familiar with LPWAN and LoRa.
Image: Our products
Here is a selection from the products that were available in spring and in other stands at the fair. Electricity meter, energy meter, water meter, humidity alarm, temperature sensor, water level sensor, gateway, electricity meter module, water meter module, IR sensor, energy calculator etc.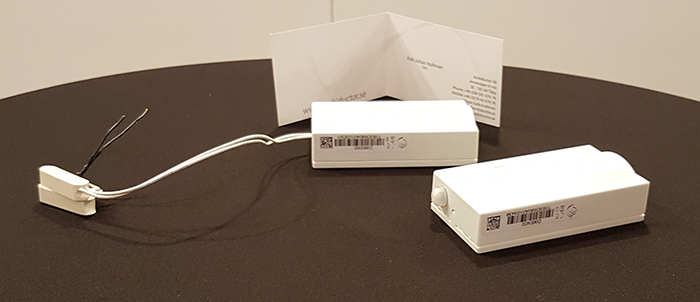 Image: Thank you for your good cooperation. Thanks again, and we'll see you next time.